Holiday 2014
Portals. Portals. Portals. I love them. Gates. Doors. Tunnels. Windows. Pathways to—? Any opening into a space to be discovered, crossing from one space to the next. What's behind the gate? What's around that corner?
Sometimes, when you pass through an opening, there's no turning back. You fall in love—with a person, a house, a garden, a book, a recipe, a place. And your life is changed. Something to ponder as we enter the darkest time of the year and have time to reflect before we get caught up in the pace of the New Year.

I like to hibernate in the cold, dark part of the year. It's never been my time; not for me, the cold.

I'm a reader. When it's too cold to be outside (by choice), and my indoor chores are complete, I read. When it's too damn hot to garden, in August and September, or at the end of a long gardening day, I read. It's been a life-long love of mine. I thank my parents for giving me the books I requested, and I thank my fifth grade teacher, Mrs. Guthrie, for challenging me to read books I would not have chosen. They helped open my world.

My friend, Ira, installed a new window in my office/hangout room for me. On the exterior side of the window, there is an aged-brick patio and my favorite place to sit on warm summer evenings. There are two worn, teak rocking chairs and a little table that Ira, a master craftsman and artist, made for me, per my specifications. It's made out of bald cypress. It's aging nicely.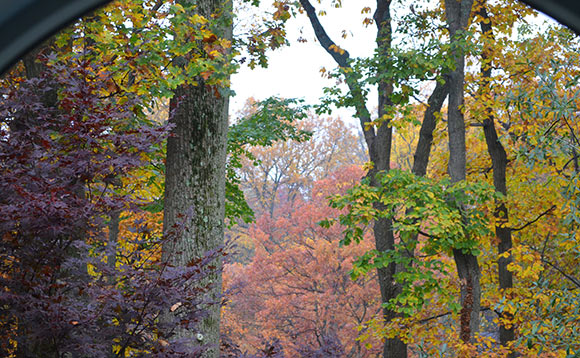 When Steve is here from North Carolina, this is where we sit at the end of the day to eat, drink beers, and catch up with what's going on in our lives. When I am alone, I sit in my rocking chair and read in the evenings. When the late twilights come in the summer, I regretfully had to put down my book because it just got too dark to read. But when Ira was putting in the new window, he installed an outdoor outlet for me, too, so I can plug in a lamp out there and read late. It's one of the best things he's ever done for me (and he has done many, many, many things for me in this old cottage of mine). I have an old, clear glass lamp that I bought right after college, when I lived in Florida and was furnishing my first little room; I filled it with shells I had collected when walking on the beach down there. I've kept it, all these years, though it had resided in the attic for most of those years. I rescued it from the attic this summer, plugged it into the outlet Ira installed for me, and I happily read many evenings this summer, long after dark. What a pleasure.

In the winter, not surprisingly, I sit in the living room and read, often in front of the fire. I may not use every room in my little house throughout the year, but each corner has its time and it all gets used, one way or another.

I'm a reader who gets on different kicks when I read. For example, I discovered a book about the letters between Julia Child, the chef, and her friend, Avis DeVoto, As Always, Julia. Then, I read My Life in France, by Julia Child, and got into some of the writing of M.F.K. Fisher, the great food essayist. Which then got me thinking about Judith Jones, Julia's longtime editor at Knopf, and lo-and-behold, I turn on NPR one day in the car and who is on the radio but Judith Jones, talking about her new cookbook, The Pleasures of Cooking for One. So I bought and read that one. For someone who lives alone most of the time, and likes to cook in order to satisfy that particular form of creativity, her little book is a revelation.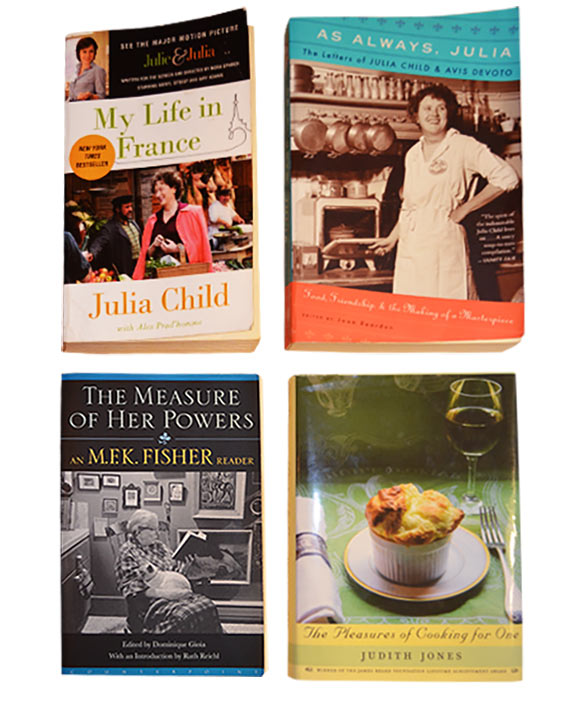 And, yes, I do get into reading about gardens—a lot—but that's another story. But this is a good segue into the topic of fresh food and cooking it.

My mother, and all the women on both sides of my family are, and were, wonderful cooks. I am of the generation (or at least the family) that does not include a lot of male cooks (they are/were awesome grillers, though). (Dad can do a perfect fried egg, though, and he can beat Mom every time at it, so I'll give him that one.) Mom is a very adventurous cook and loves to try out new recipes. Generally, she bats a thousand, though I do remember one particular Thanksgiving not too many years ago when things didn't turn out as she planned. She tried out a new dish (can't remember what it was), and we all sat down to eat. Mom tried one forkful of her new recipe and immediately pursed her lips, "Ugh." She got up immediately from the table, carried the serving dish into the kitchen, put it on the counter and said, "That is not fit to eat." We believed her. Honestly, I cannot remember another time she had to do that, because she truly is a good cook. But even good cooks can choose the wrong dish or screw it up. Moral of this story:  try out a new dish before serving it to your guests (I've made the same mistake, as I'm sure many have). In Mom's defense, Dad is not a particularly adventurous eater, so she doesn't have a built-in guinea pig. While she has traveled much of the world, like I have, and tried many cuisines, Dad is a happy camper to stay home and eat the food he likes best. Cooking for others gives Mom the chance to exercise her creative cooking pursuits.

Anyway, back to me and cooking. My friend and trainer, Paulo, and his wife, Steph, were talking one day about this box of vegetables they get every week. It sounded like a good thing to try, so I signed up. When you open your door one morning a week, there is the box of freshest veggies, whatever is seasonal. You can choose the size box you want to get, based on your needs (single, family, etc.) It's called From the Farmer and it's been life-changing for me, in terms of cooking.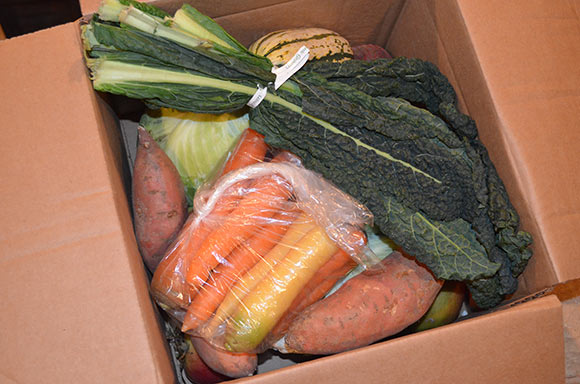 A weekly delivery sent by From the FarmerI have always cooked dinner for myself (or guests) my entire adult life (seriously). Not that I don't enjoy a good meal out--I enjoy cooking and enjoy sitting down at the end of a long day and relaxing with a good meal. The act of cooking is relaxing for me, too. I'll admit to many a thrown-together dinner at the end of an endless day supervising garden installations, yet getting this box of fresh vegetables every week has forced me to cook. I know I have all these gorgeous vegetables, and I know I have to cook them—or throw them out, something I don't relish doing.

To be honest, I hesitated before getting the veggie box (as I have in the past) because I am so busy and worried about waste, do I have the time?, etc. etc. Getting back to the point I made about portals, at the beginning, though—I wanted to go through this door and try something new.

Once I got the first box, I dug out some of my favorite cookbooks: Vegetarian Cooking for Everyone, by Deborah Madison (essential, especially for recipes for all the oddball veggies I'm not used to); The Pat Conroy Cookbook, by Pat Conroy (he wrote South of Broad, The Prince of Tides, etc.); The Tuscan Sun Cookbook by my favorites and friends, Frances and Ed Mayes; and The Pleasures of Cooking for One, of course, the book by Judith Jones I mentioned earlier.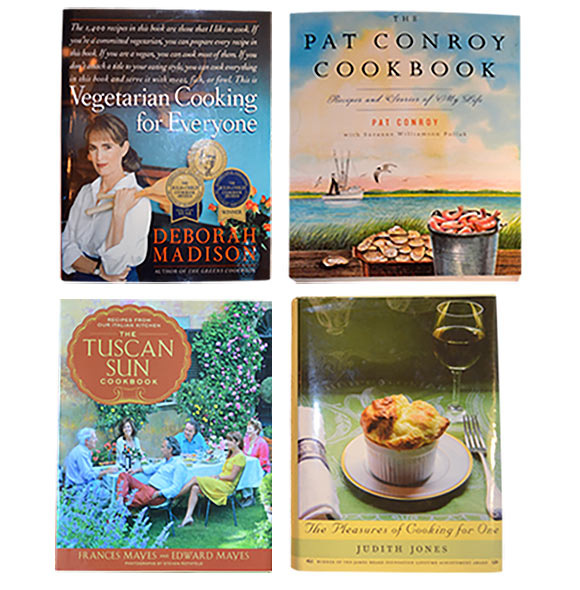 What a revelation this has been! I don't think I've eaten so well since I left home for college! And the pure pleasure I've gotten from it—relaxing, creative, delicious—has been a great gift. I've always loved cooking when I entertain, yet this has been a real gift I've given to myself.

The other interesting thing that's come up for me is the food memories that pop up as I'm cooking. For instance: leeks. As I'm cutting and washing them to braise, up pops a long-ago memory—Mom and one of her childhood friends (who now lives out of state and was visiting) treated themselves to a nice dinner out. They'd encountered "leek soup" on the menu. Having never heard of leek soup (this was the '60s, remember), they both burst into laughter. She was still laughing when she got home. I think they ordered it, too, though I'm not sure. Cutting my leeks that day, I'm grinning as I remember.

Another: collards. When I lived in Florida, after college, I rented a room from a friend's mother for a time. She had a flat, sunny yard, so I started a vegetable garden. Since it was early winter when I moved in, I planted collards. Now, I love collard greens (a bowl of fresh collards and some cornbread, and I am in heaven, let me tell you), but I planted way too many collards that year—I think we gave collards to half the county. Here, as I prepare my small mess of collards in the big, cast iron skillet, that time rushes back in memory.

I'm sure I could go on and on, but you get the drift. I know all of you have had similar sense memories when it comes to food. Food seems to bring on memories, as do gardens, because they are such a part of our lives and culture.

And growing our own food, for many of us, has become important. The farm-to-table movement is booming. Farmers are becoming rock stars like the chefs who cook their produce. If I only had a sunny yard, I could grow my own vegetables—but I can create vegetable gardens for others, and I have. I'm thinking of my friend, Catherine—I did a raised herb/veggie bed for her a few years ago. Tom, my landscape contractor, came up with the most incredible soil mix—it is the ticket for growing herbs and vegetables in raised beds. Catherine has gotten the most astounding yields, though she says, "I think I paid more money for that soil than for any of the many other things you've done for me in this yard—but it was the best money I've spent and worth every penny." Yes, soil is everything. We did a larger raised bed for my friends, Alice and Chuck, whose kids had outgrown the playset area. How to repurpose the area? They chose an area to grow vegetables and got a raised bed put in, with the same soil mix.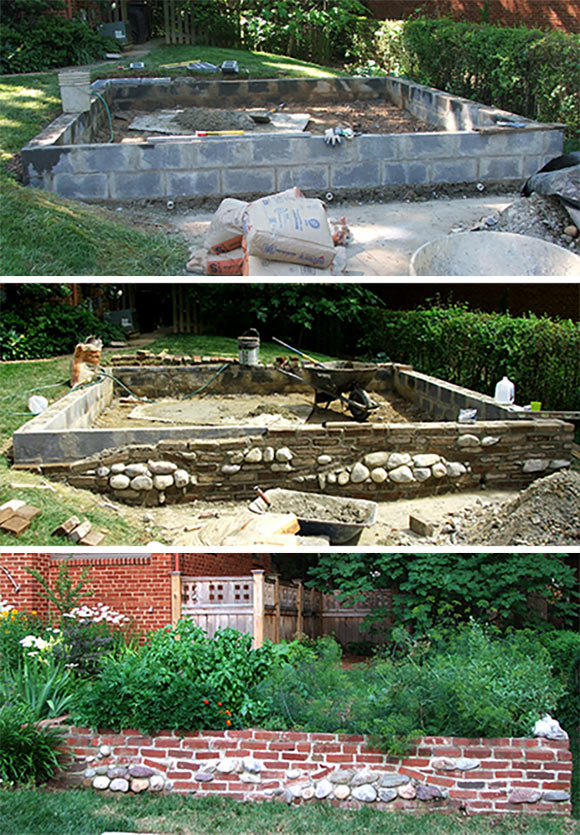 Repurposing an area in our gardens is another topic for another day—it happens to many of us as our children grow up, our needs and interests change, etc. Writing this, I just dried out the damn chicken I was roasting—cooked it too long. Oh, well.
Next Story: Preparing Your Garden for Winter>