ABOUT Jeff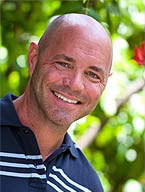 Jeff Minnich received his horticulture degree, with an emphasis on landscape design and nursery management, from Virginia Tech.  His design firm, Jeff Minnich Garden Design, Inc. takes the client from initial design concept through the completed garden design.  Subsequently, the firm sub-contracts the landscape installation through reputable, talented craftsmen.  
Jeff is also a professional writer and speaker.  His regular children's gardening columns appeared in Flower and Garden magazine for two years.  Many of his horticulture articles have been published in the local press, including a weekly column in the Journal newspapers and other publications, including American Horticulturist and The American Gardener.  Requests for re-prints of his articles and various gardening columns have come from as far away as England and Japan.  He wrote several chapters for the Northeastern Gardening Guide published by Sunset Publishers.  Several of his gardens are featured in a book on water gardening, The Complete Guide to Water Gardening, by Kathleen Fisher.  Garden tours frequently feature his gardens.
Jeff also speaks about many horticultural topics to a variety of groups.  He formerly hosted the weekly, hour-long program, "Sunday Morning in the Garden", on WJFK, 106.7 FM in Washington, DC, which is heard in a large part of the Mid-Atlantic region.  He hosted a live garden chatroom weekly on Digital City Washington, the local arm of America Online.  Publications such as the Washington Post and USA Today have sought his gardening comments and advice.  He has judged many regional flower and garden shows and contests, including the Maymont Flower Show in Richmond, Virginia.
Jeff is vice president of the Virginia Society of Landscape Designers, and is a member of The Landscape Designers Group and the Garden Writers Association of America. He served on the board of the Virginia Nursery and Landscape Association and developed the Virginia Growers Guide for that organization.  He served on the founding board of the Friends of Green Spring Gardens Park—Fairfax County, Virginia's horticultural park.  He also co-chaired the founding board of the Healing and Memorial Garden for the Whitman-Walker Clinic of Northern Virginia where he assisted with the garden design.  He is an Advanced Virginia Certified Nurseryman.