ear Clients and Friends,
Finally, finally, the intense summer heat and humidity have broken and my thoughts go to the fall season and garden.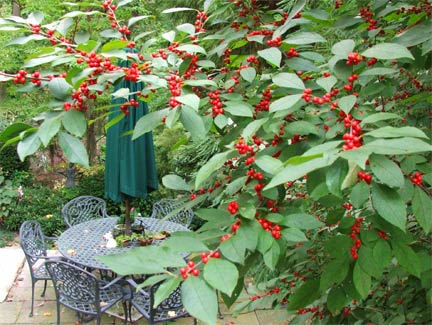 Watering
Thank you for paying such close attention to the water needs of your gardens this summer. Everyone seems to have gotten through pretty well. Just because it's cooler, don't give it up! September, October and November can be very dry months, and the humidity is lower, so that adds to the dryness. One good, deep soak once, maybe twice, per week should do it on established plants—keep an eye on newly-planted things; they might need it more often. The weakening sun helps the soil stay moist longer which is a plus. And a 2-3 inch layer of mulch helps conserve moisture, too, in areas prone to drying out.

Fall Planting
We have launched into our fall hardscaping jobs (patios, etc.). I am holding off until very late September-early October to begin planting this fall. It is still so very dry. Once planting season begins, we can plant as long as we can get a shovel in the ground. The fall season was cut short last year by an early freeze, then snow, in December. We had a nice window of about a week in January, so we took advantage of that to do some grading, mulching and sodding. Then the bottom fell out as you remember. Spring was lovely and long. What a great planting season this year until the heat and drought began this summer. I always try to get the most tender/marginal plants in the ground on the early side so they will root before the harder freezes begin.

Fall/cool-season vegetables should go in now, too. Plant transplants of Broccoli, Kale, Brussels Sprouts, Cabbage, all types of greens, Onion sets—all can go in ASAP. You can seed Radishes and Lettuces. Clean out all the old summer junk and don't throw away those green Tomatoes!!! Either wrap them in newspaper and let them ripen, or bread them and fry them up! Delicious!

Fall Flowers
Blooming prominently now in my garden: perennial Begonias, Turtlehead, Impatiens, wild white Asters, pink Anemones, Sweet Autumn Clematis, and various other things here and there. October will bring the fall-blooming Sasanqua Camellias, Toadlilies, and the Tea Olives. Then all the beautiful fall color begins late in the month. The last hurrah is always the Japanese Maples, and they hold their leaves late. Just gorgeous. Fall is the time to plant spring-flowering bulbs, perennials, Pansies, Mums, Ornamental Kale and Cabbage, as well as trees and shrubs.

Pruning
Don't do any major pruning now because you will promote new growth and it may not harden in time for the freezes. Go ahead and cut out the dead wood on anything, though, and light trimming is certainly okay. Remember if you cut the tips off Azaleas, Camellias, Rhododendrons, and any other spring bloomers, you will not have blooms next year. These plants have already set their buds for next spring's bloom and you will cut them off if you prune them.

Weeds
Get rid of them now! They are going to seed and if you don't get them, you will have a bumper crop next year!

Lawns
Lawns should begin greening up again as the weather continues to cool and (hopefully) the fall rains begin. It is now the perfect time to seed cool-season lawns—Tall Fescues are the best for the DC area. Likewise, fall is the best time to feed your cool-season lawns since they are beginning to go dormant on top and the energy is going to the roots. They take the fertilizer down to the roots in the fall and the roots continue to grow long after the tops go dormant. The opposite is true for warm-season grasses: Zoysia here in DC; Bermuda, St. Augustine, etc. further South—these grasses will soon begin to go dormant and that's what we want them to do to maintain their hardiness. So--no feeding until next spring when they green up. Crabgrass was awful this year. It is an opportunistic weed—in other words, it comes up in those dry, barren areas of the lawn when conditions are hot and dry. Prevention of crabgrass is chiefly by trying to keep your lawn thick and lush so there is no place for the crabgrass to sprout (this goes for all weeds, actually). If you want to apply a pre-emergent, to keep it from germinating in the spring, you can apply that when the Forsythia is blooming in the spring. That is the time. Also, please note that crabgrass is an annual—it will be killed by the frost and die this fall. The seeds that remain will lie dormant and germinate next spring.

My Garden
Late summer and early fall is one of the best periods for my garden here at Woodland Cottage. If you are in the area, come on by and walk through anytime, self-guided. All are welcome. It's never perfect, but it's the best I can make it at any given time.

Please let me know if you need any help with any of your garden needs this fall. For more information, visit my website at www.minnichgardendesign.com. Things are booking very, very quickly for this fall, so get on the list! It has been a wonderful year and I thank you very much for your continued business. I am very appreciative and each one of you is very important to me.

Please enjoy the end of summer and the approach of fall!


P.S. You can forward this newsletter to a friend by clicking the blue forward E-mail link below at left.