News
Read Jeff's takes on the world of gardening, as well as other related topics.
You can also get some great tips as well, check it out...

Newsletter Archives
If you would like to read some of our newletters from the past,
you can click the links below to view the newsletter.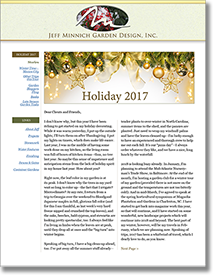 Dear Clients and Friends,

I don't know why, but this year I have been itching to get started on my holiday decorating. While it was warm yesterday, I put up the outside lights; I'll turn them on after Thanksgiving. I put my lights on timers, which does make life easier. Last year, I was in the middle of having some work done on my kitchen, so the living room was full of boxes of kitchen items—thus, no tree last year...
Read the Newsletter as an interactive PDF
or a mobile friendly web version