ear Clients and Friends,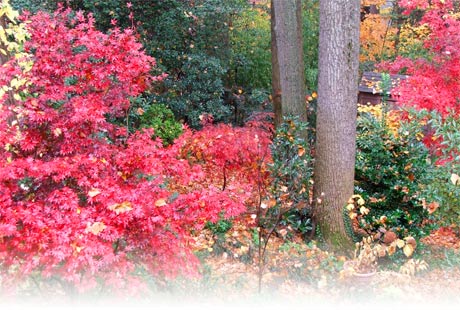 The last leaves are falling off the giant, old trees in my yard. A couple more big rains and/or windstorms, and they'll all be down for the season. I've enjoyed this sweet, slow, savory Autumn more than any in my memory. The leaves were slow to turn and the colors dull, at first; I really thought we were in for a mediocre Fall. What a surprise to see the brilliant colors kick in and delight us for days and days. It's as if the deciduous plants in my garden were trying to outdo one another. November is one of my favorite months.
I have a secret: I'm loving the chaos in my garden right now. It's a mess. Pathways, patios, walks, bushes, water feature—all buried in leaves of every color. And still so many more leaves to fall when I look up into the trees. I just wait until every leaf is down before I clean up each Fall. And you know what? I love it. It's the one time of year I don't really feel the push to clean up, probably because everywhere I look it's the same story. What a relief not to care, just for a few weeks, and let Nature have its way; to cede control and enjoy the gorgeous chaos.
I know that makes many of you uncomfortable (I know who you are—I'm looking at you!)—to let your garden go, let go of the control and just have its way for a bit. The irony for me is that one of the things I love most about my work is the opportunity to create order out of chaos. It's a very rewarding part of my job. On the other hand, I love imperfection—everything about my house, my garden (everything I own, really) is a little rough around the edges, used, earthy, rustic. I'm naturally drawn to it, time and time again. My funky, beloved, old house, built on a steep hillside, is crooked, and creaky, and as imperfect as it can be, and the garden has been one challenge after another. And I wouldn't have it any other way. Keeps things interesting. I love my little piece of Earth.
All that said, I know in a week or so I'll let out a big sigh and realize, "It's time to clean up the yard." At that point, I'll be ready. Tom's guys will roll in and we'll all spend a very hectic day transforming it from chaotic to orderly again. And I'll love that, too. I'll especially love the fact that I've planted so many evergreens in my quirky, Deep South-wanna-be yard, because I do really despise the Winter.
The evergreens cheer me up on those darkest, coldest, dreariest days and get me dreaming about my annual trek South for the coldest part of our Winter. We are rushing against the clock now to finish up our Fall plantings before the ground freezes tight. In a couple of weeks it will be too late, in my opinion, to plant the marginal, tender things (i.e. Camellia, Crapemyrtle, etc.)—best to wait for Spring to plant them, so they will be well-rooted for the next Winter. Stonework, hardscaping and most other forms of construction continue through the Winter as the weather allows, on the balmier, dry days without snow cover. Now is the time to put your garden to bed for the Winter, sit back and enjoy your Winter break. We will do the final, detailed clean-ups for clients these next few weeks. Let us know if we can help you.
Next story > Preparing Your Garden for Winter