ear Clients and Friends,

First spring thunderstorms today, and the first soft, green haze of leaves is showing up on the trees. Just three weeks ago I got home to a snow-covered yard. Now, it's cleaned up, growing and ready for spring. Crazy. The fastest turn-around I've ever seen here. We've all gone from shoveling snow to a gardening gallop. Time to get ready!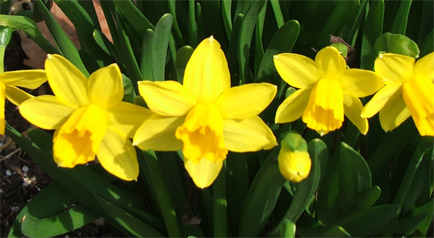 Tête-à-Tête Daffodils welcome Spring!
Spring Garden Chores

Whether you get the yardman, or me, or you do it yourself, it's time to clean-up your yard. It's a busy time out there. So much changing every day.
Jeff Minnich Garden Design does provide a seasonal maintenance service. This entails clean-up, fertilizing, trimming/pruning, spade edging, mulching, planting annuals and pre-emergent weed control. We do not provide lawn care. If you are a gardener and choose to do it yourself, I will go over some of the things you should address:
Clean-up--Clean out all dead leaves, branches, etc., and dispose of them. Cut back all the dead tops of your perennials; many of them should be emerging. Some are later to come up, though, so don't be alarmed. Also pull up all the dead annuals from last year that you may not have removed.


Trimming/pruning--First of all, trim all the dead wood out of everything. If you are not sure if a plant is dead or not, WAIT. Just be sure to give the plant time to bud out before you hack it back. It may be June before you can be certain. You should also have a good tree-care person to take care of your trees. Keep them on retainer--it's worth it! Here are some general guidelines for pruning: things that bloom in the spring--for example, forsythia, lilac, azaleas, dogwoods, camellias--prune after they finish blooming, as severely as you'd like. Be sure to finish this spring pruning by the 4th of July or so since all these things will set their buds this summer for next year on the new growth produced this year. Things that bloom in the summer--for example, crapemyrtle, summer spireas, rose of Sharon, summer hydrangeas (but not the blue/pink)--prune now as severely as you'd like. These bloom off the new growth produced this spring. Things like clematis, hydrangeas, roses--these particular plants can vary on their pruning rules even by variety or type, so best to look up online or give me a call before you cut and sacrifice the bloom. Often, the reason plants don't bloom is because they were pruned at the wrong time. Non-blooming plants, deciduous or evergreen--you have a lot more leeway here and you can prune almost anytime. But remember, with all pruning (like anything else) there are exceptions to the general rules. When in doubt, check before you cut.
Next story > Spring Chores Continued